Return to Headlines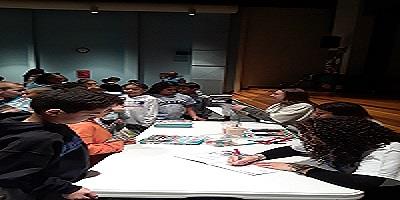 Female senior athletes sign autographs for the 2nd and 7 program for the books they read to the second-graders.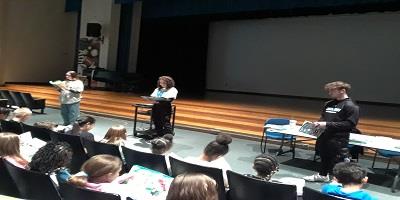 Senior students line up in the front of the auditorium to read to the second graders as part of the 2nd and 7 program to encourage reading.
Sharing a Story and Learning to Read
The "2nd and 7" reading program created by three former Ohio State University football players in 1999 continues to encourage second -graders to increase their reading. Washington School District is one of the districts that has participated for nearly 10 years with the program that brings high school student athletes to the elementary school for a time of sharing and reading on 2/7.
The program was originally started with enough books to give out to 7 classes of second-graders. Thus, the organization was named - the "2nd and 7 Foundation." Wash High's Assistant Football Coach Lance Vallee got Washington School District involved with the program and at least twice a year, including Feb. 7th, the senior high student athletes read to the second grade. Typically, each fall the football team participates, and on Feb. 7th (or 2/7), student athletes from other areas such as wrestling, cheerleading, basketball, and baseball are encouraged to participate. This year four student readers from the senior class participated on Feb. 7th, distributed copies to about 120 second-graders to keep, follow along with the reading, and then signing their autographs in the books for their elementary friends.
Lots of smiling faces and happy readers enjoyed their time together this year. Senior readers for Feb. 7th included Nick Blanchette, a wrestler, football and baseball player who recently received an academic scholarship to Washington & Jefferson College to study pre-med; Maggie McCort, a cheerleader, softball player, and dancer who plans to be a teacher; Cayleigh Brown, cheerleader, volleyball and basketball player who plans to study graphic arts; and Delaney Carlisle, a basketball and softball player, who will study accounting.
Congrats to the senior readers and those second-graders who shared "The Hog Mollies and the Big Birthday Bash" at Washington Park Elementary.
Posted: February 2023