Return to Headlines
84 Lumber to donate Digital Scoreboard in Memory of Employee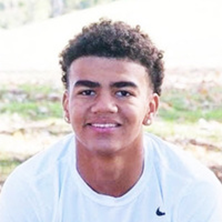 Caleb Jackson
84 Lumber to donate scoreboard to Wash High in memory of former student-athlete, employee | Local News | observer-reporter.com
When Wash High 2020 graduate Caleb Lee Jackson died in a motorcycle accident on May 13, 2021, the Prexie community suffered a tremendous loss. Not only was Jackson a 2019 All Conference and All District football star and Prexie basketball star, his winning personality and smile made everyone feel good.
After graduation in 2020 he took his positive, winning attitude to 84 Lumber. Now Jackson's employer will show their support for Jackson's family and the Washington School District by donating a Daktronics scoreboard in memory of Caleb Jackson. The Daktronics' scoreboard and sound system will cost about $250,000.
"Caleb was a wonderful part of the 84 Lumber family, and we are grateful for the chance to honor him through this scoreboard donation to his high school," said 84 Lumber President Maggie Hardy-Knox. "We are lucky to have gotten to know him and work with him, and are proud to be a part of carrying on his legacy."
The accident snuffed out his young life at age 19, but not his spirit. Jackson had only worked about 8 months at 84 Lumber's shipping and receiving department prior to the tragic accident.. One of Jackson's five sisters, Deja Glemba, assistant to 84 Lumber President Maggie Hardy-Knox, said, "Caleb was proud to be a Prexie. He loved his team, coaches, fellow classmates and the Wash High community. Caleb was a positive light in so many people's lives, and we are blessed to be able to honor him in this incredible way, in the stadium that he loved so much."
Athletic Director and Football Coach Mike Bosnic said that "Caleb was really a great kid to coach. He was always ready to play and always smiling. He made everyone else feel good to be around him. His death was a tremendous loss for all of us who knew him and worked with him."
Bosnic added, "The Daktronics' scoreboard is state of the art and will be able to "truly show the fans the football home games, as well as track meets, and other activities held at the stadium. We held graduation there the past two years to keep it outside because of Covid. Other outside events will now find the stadium more accommodating because of the capabilities of the digital scoreboard, including video. It is an honor for us to receive such a wonderful, memorial tribute to Caleb. His legacy will truly be present for all to see and remember every time they visit our stadium."
Jackson's sister Deja explained that "the fans inside will see 'In Memory of Caleb Jackson' on the scoreboard, but those driving by will see his photo on the outside of the scoreboard. It will be nice to drive by and see him there. He loved playing at the stadium. It is very appropriate."
84 Lumber plans to have the scoreboard in place for the 2022-23 school year when there will be a community unveiling of the tribute to Caleb Jackson.
Posted: March 2022